Is hell in the bible? What if I quit church? Didn't Jesus die on the cross to save everyone? Do I have free will? Is God mad at the world? Where's God? I don't understand the Bible! Am I going to burn in hell if I sin? Is there a heaven? My pastor says I have to be baptized. Where is my dead mother? Is Satan real? Does God really care if I love Him? Is there a hell? Why is there so much evil in the world? Isn't God in control?

Q&A
Q:
I finished How to Quit Church about a month ago. I am fascinated by the ideas set forth in it. I have already, however, alienated one friend just by giving him the book to read. He was really offended by what you had to say about church music. He didnít finish the book. I have talked to several other friends about the ideas in this book, and have raised a good deal of concern amongst them about my salvation. I am really feeling like a fish out of water, like the odd man (woman) out.

I really donít know where to go from here. I really need to find someone to discuss this with. I live in the Bible Belt, an area that I am beginning to realize is poorly-named, and I canít find anyone who is not intimidated or does not get the hell irritated out of them by the very idea of all people one day being saved by Christís blood.

I was wondering if you could give me some ideas on how to start up a Bible study or gathering. I have not attended church for two years, but I do miss it. I just couldnít swallow things anymore. Continued...

More Q&As
---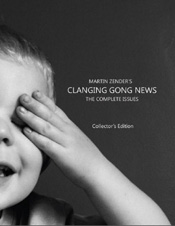 Awesome!
CLANGING GONG NEWS

Complete Issues
Collector's Edition

A beautiful hardbound "coffee table" edition containing detailed topic index and Scripture index.

280 Full-Color pages
MORE INFO...
---
ANSWERS
from the World's Most Outspoken Bible Scholar





SEARCH THIS SITE




Revelation Series #89: A Door into Heaven



---

THE REVELATION SERIES
CLICK HERE for show audio files and to comment on today's broadcast!


---

For conference video messages click HERE




I am a spiritual seeker, just like you. I have sampled the religious institutions of humans and found them unable to contain the greatness of God. All my life, I have had deep questions about God and my relationship to Him: Why am I here? Why is there so much evil in the world? Is the universe coming to an end? What will happen to my unbelieving loved ones after they die? How important is it to attend a church? I didnít find answers in church. In fact, most of the churches I attended or visited didn't even want to hear the questions.
Read more...



---



HOW TO QUIT CHURCH WITHOUT QUITTING GOD


Why Going to church today is unbiblical, un-Christlike, and spiritually risky



"Confronting hypocrisy, contradiction, and cult overtones in modern-day Christianity head-on, Zender raises serious criticisms without renouncing true faith. A truly fascinating book."


-

Michael J. Carson, The Midwest Book Review

Paperback
Revised from original edition




The ALL NEW
Martin Zender


Dan Sheridan Show


Click to listen!


---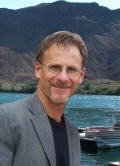 "Zender's conversational writing style turns discus- sion about strict religious dogma into a fun-filled frolic. Although vehemently spiritual, he is the Robin Williams of the roadside tent revival.


-
Dwight Greene,
Fort Worth
Star-Telegram
Free Downloads

Available now only to subscribers!


Please sign up in the box to the right.


Why We're Near the End
The Beasts of Daniel, Chapter 7
Recorded live in a Christian radio station studio, these ten tracks explain the beasts of Daniel, chapter 7, as you've never heard them explained. Are we in the end times? What would happen if Jesus came back today and attended a Christian church? Are the Pharisees alive and well?
The Struggle Against Evil
Recorded exactly one week after 9/11, Martin contemplates evil and the part it plays in God's plans. Did 9/11 have to happen? How does this momentous event fit into end-time prophecy? Although this message will take you back to your memories of September 11, 2001, you will be comforted in the realization that God is still in charge of His universe and that we are nearer than ever to seeing Christ.
SIGN UP NOW
and you'll receive an email containing a link and instructions on how to immediately download

Why We're Near the End
and
The Struggle Against Evil
FREE!

Free PDF Report
What is a Believer?
(As advertised in "The First Idiot in Heaven")


How the most prevalent teachings in Christianity effectually keep good people from believing in the gospel of the grace of God.



Sign up today!

QUOTE

"The ultimate measure of a man is not where he stands in moments of comfort and convenience, but where he stands at times of challenge and controversy."

~ Martin Luther King, Jr

---
Story Feature

January CrŤche
---
Essay Feature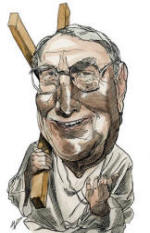 ---
Video Feature

God Hates Organized Religion
---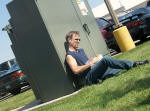 ZenderTour 2007
---