Q&A
Q:
I don't know anyone who will talk to me about the things I read in Martin Zender's books. I'll only be chastised or be sat down for a good "programming" session.
For the past two years, I have had this gnawing discontent with "church." All they care about is their "praise and worship" ministry. I'm becoming more and more disillusioned with doctrine and things I don't think are scriptural. But I don't really know who to talk to about it. Should I spill the beans about what I believe?
I'm confused now, more than I was before. I really need to talk to someone about this. I can't stop thinking about the things I've read. I can't find a Concordant Bible in the Christian bookstores; they only carry KJV, NKJV, NIV and NASB. What other Bible has word-for-word translation?
A
:
Thanks for writing. I don't really like "praise and worship" singing either. It's a lot of emotion without understanding. I'd rather see an ounce of understanding that a pound of "praise and worship."
You don't
have
to spill the beans about what you believe, because when you do, it will be tough. Wait until God moves your heart to speak.
Continued...
More Q&As
---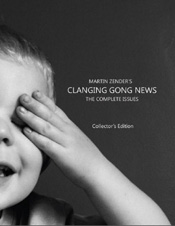 Awesome!
CLANGING GONG NEWS

Complete Issues
Collector's Edition

A beautiful hardbound "coffee table" edition containing detailed topic index and Scripture index.

280 Full-Color pages
MORE INFO...
---